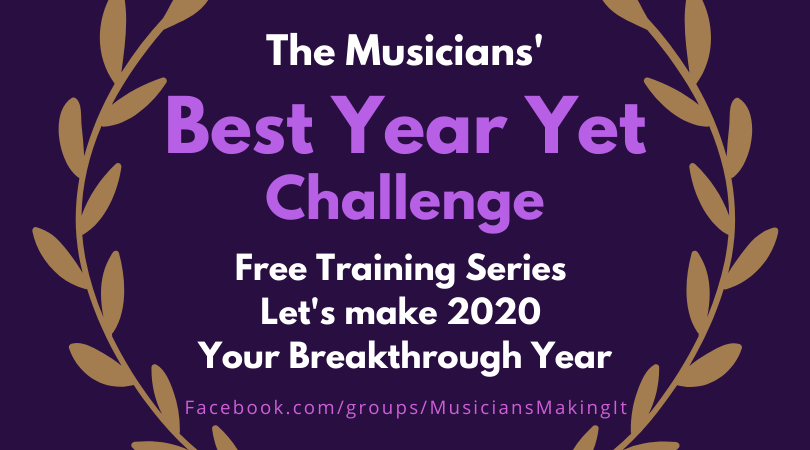 Let me get this holiday confession off my chest . . . there've been plenty of Decembers that left me feeling pretty bummed out because I hadn't accomplish everything I'd hoped for in the year.
You might imagine a music career coach (moi) has it all figured out.
Nope. I'm actually 100% human last I checked and far far far from perfect.
Over the years of slogging through the December blues I finally had two big "A-Ha's" around why I was predictably regretful at this time of year . . .
#1 I hadn't taken consistent actions toward my goals and I sure as hell hadn't stepped into my power to change.
#2 I was blind to the fact that I actually possessed the power to change things.
Why bring up all this?
Because all too often the week between Christmas and New Year's is a washout of regrets, family squabbles, and sugar overload.
If you can relate, I want you to know that a better December is 100% possible for you.
That next year at this time you can instead be feeling proud of all that you've accomplished and energized about what lies ahead.
How can you make this possible?
By learning how to fully take charge of your career.
Join me in an energizing 5 Day challenge just for musicians who want MORE for 2020.
It'll happen inside our Musicians Making It FB Group every morning from Dec. 27-31 so you can power-up the new year.
In manageable daily exercises, you'll get crystal clear about what you want and how to take tiny actions to get there.
Let's make 2020 your breakthrough year.
How can you participate? It's easy!
Here's the link to access the MusiciansMakingIt FB group so you can confirm that you're a member. Once inside, you'll find the Best Year Yet Challenge announcement — where you'll find the link to add the 5 day Challenge to your calendar and get handy reminders.
And if you're not yet a member of the MusiciansMakingIt FB Group, no worries. Just click HERE to request to join and we'll get you going!
And I'll see you at 9 am ET on the 27th,
Dream Big, Plan Smart, Live Well