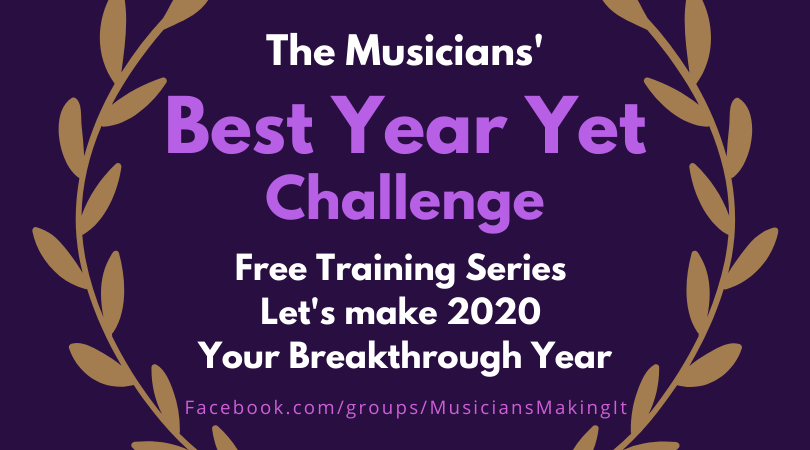 This time of year always used to get me down: the whole goal setting / resolution thing was a real bummer. This year I decided to finally do something about it. I launched the Musician's Best Year Yet Challenge, a free 5 day training to help musicians get more of their best work out into the world in the new year. Yep, this is for Musicians Making it Real in 2020.
We started on Friday and I've been so energized by the participation and the generous feedback that people are offering each other. If you've got any anxiety about the new year, you can still join us!
To mark the new year and the honor the new decade we are powering up.
For the past few days we've met in our MusiciansMakingIt FB group for a FB Live session at 9 am ET. (Don't worry, you can still catch the replays and grab the worksheets.)
In our sessions we've been re-imagining goal setting from the ground up so that each of us can overcome the obstacles that have held us back.
Each day has a theme and a quick empowering assignment:
Day 1: Claim Your Power
We each identified our personal Power Word for the feeling we want to have fuel our work. It's the emotion we want our actions to ride on as we advance our careers. And we each found an image that conveys our word. Thinking about career advancement from a feeling perspective is liberating—realizing we have a choice about how we feel is empowering. And the words and images people chose and posted have been inspirational. Check these out.
Day 2: Name Your Traits
We each articulated 10 traits associated with our Power Word. The idea here was to flesh out all that our Power Word signals to us, so that it's not an abstract concept, but a distinct mode we can access. What gives our word Power is our ability to return to it when we start to experience fear and negative self-talk. We can re-orient ourselves to our Power Word, acknowledge the fear and resistance, and move forward anyway.
Day 3: Identify Power Habits
Yesterday was Day 3 and here the rubber met the road as we started to consider actual action and changes we can commit to. We each identified 5 specific habits that would most help us get and stay in forward motion. It was helpful to remember that the biggest changes come from seemingly small new habits. We each chose one primary habit to lean into first—acknowledging it takes 21 consecutive days to make a new habit truly our own.
Day 4: Name the Elephants
And this morning we considered the obstacles (both external and internal) that we each will likely encounter as we move forward into the new year. We named the specific "elephants in the room" so that we could consider what support might help us deal more effectively with them. No more hiding or pretending that the elephants are going away on their own. Here's to dealing squarely with our resistance and fear: Bring it on!
And tomorrow, for our final day, we'll be making clear choices about how we want to move forward into 2020, knowing there'll be challenges, both old and new.
Musicians Making it Real in 2020
I use to start the new year half dreading it, feeling "oh no, here we go again" and having no real confidence that the new year would be any different than the last.
Not anymore.
It's been a huge energy boost for me and I appreciate the openness and positivity of our MusiciansMakingIt group members. And I'm psyched to help you make 2020 YOUR Best Year Yet.
If you missed any of the previous days, you can easily catch up. The video replays and worksheets are in our MusiciansMakingIt FB group. Each day's exercise takes just 5 -10 minutes and the pay off is that tomorrow, Day 5, we'll put all the goal setting in context to help you make a clear decision about how you'll make 2020 your breakthrough year.
If you're not yet a member of the MusiciansMakingIt FB Group, no worries. Just click HERE to request to join and we'll get you going!
And if you've got a question about working with me, check here.
Here's to your forward motion,
Dream Big, Plan Smart, Live Well